Bomb on Basic City - Megadrive/Genesis - Complete Game !
A downloadable game for Windows, macOS, Linux, and Android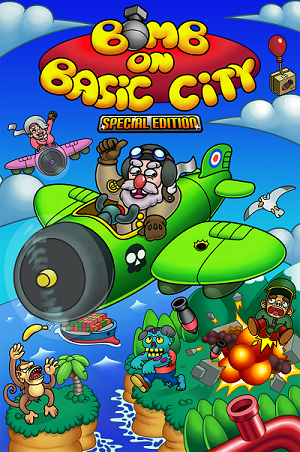 NEW !!
Preorder of Bomb of Basic City SPECIAL EDITION is open !
More information here : http://www.cotegamers.com/boutique/index.php?id_product=51&controller=product
And the Official Trailer :
Hurry up, only 9 days left to get it !! ;)
Created by Studio Vetea and inspired by Gamopat's Bomb on Pixel City, Bomb on Basic City is an addicting arcade bomber game for the Sega Genesis/Mega Drive.
Papi is back with a vengeance in the new game Bomb on Basic City. Take flight in Papi's bomber to fight the C++ Invasion Forces and reclaim your homeland in this action packed arcade bomber!
Bomb on Basic City has multiple difficulties and unlockable challenges for hours of fun and entertainment. Available now for the Sega Genesis/Mega Drive gaming consoles.
How to play ?
- Buttons: A and C drop normal bombs and missiles ( Power-ups ). B will drop a charged bomb when the power meter is full.
- Avoid ennemy bullets and buildings.
- Collect items and power-ups !
- Left direction slows Papi's plane down, and the Right direction speeds his plane up.
- Start pauses the game and displays the Options menu.
Items and Powerups

Gives you 3 additional bombs.


Turns your next bomb into a missile that will reach the ground and cause chaos in its wake.


Raise or lower the plane by pressing up or down.


Defends against one bullet only.

ROM Genesis/Megadrive's Complete Game.
Use on your Genesis/Megadrive Emulator or on your Everdrive cartridge !
Have Fun !! :-)
Vetea
Buy the physical Cartrdige version with the Second Dimension Edition :
http://www.second-dimension.com
Get the BOBC Demo here :
Purchase
In order to download this game you must purchase it at or above the minimum price of 2.50€ EUR. You will get access to the following files:
Bomb on Basic City Megadrive ROM
1 MB